Must-Read Books on Spirituality for beginners
Embarking on a spiritual journey can be a profound and transformative experience, especially during challenging times. Whether you're curious about spirituality, seeking solace, or looking to deepen your connection with the inner self, reading can be a powerful way to explore and grow spiritually. In this post, I will introduce you to five must-read books for spiritual beginners, offering guidance, wisdom, and inspiration as you navigate life's uncertainties and step up your spiritual game.
1. "The Power of Now" by Eckhart Tolle
Unemployment often leads to moments of introspection. "The Power of Now" by Eckhart Tolle is a spiritual classic that teaches the importance of living in the present moment. Tolle's insights provide a roadmap to inner peace, helping you shed unnecessary worries about the past and future. Reading this book can help you cultivate mindfulness, reduce stress, and find clarity during challenging times.
2. "Siddhartha" by Hermann Hesse
Hermann Hesse's "Siddhartha" is a timeless novel that explores the spiritual journey of its titular character, Siddhartha, who seeks enlightenment and self-discovery. Set against the backdrop of ancient India, the book delves into themes of self-realization, inner wisdom, and the pursuit of a meaningful life. As a spiritual beginner, you'll find Siddhartha's quest both relatable and enlightening.
3. "The Untethered Soul" by Michael A. Singer
Michael A. Singer's "The Untethered Soul" is a profound exploration of the human psyche and the path to inner freedom. This book invites you to examine your thoughts, emotions, and the voice within your head, ultimately guiding you toward greater self-awareness and spiritual growth. It's an excellent choice for those seeking to understand the inner workings of the mind and spirit.
4. "A New Earth" by Eckhart Tolle
Another masterpiece by Eckhart Tolle, "A New Earth," delves into the concept of ego and its role in our lives. Tolle's teachings offer a transformative perspective on the nature of suffering and how to attain lasting peace and happiness. This book provides valuable insights for individuals looking to transcend ego-driven patterns and embrace a more spiritual and awakened way of living.
5. "The Alchemist" by Paulo Coelho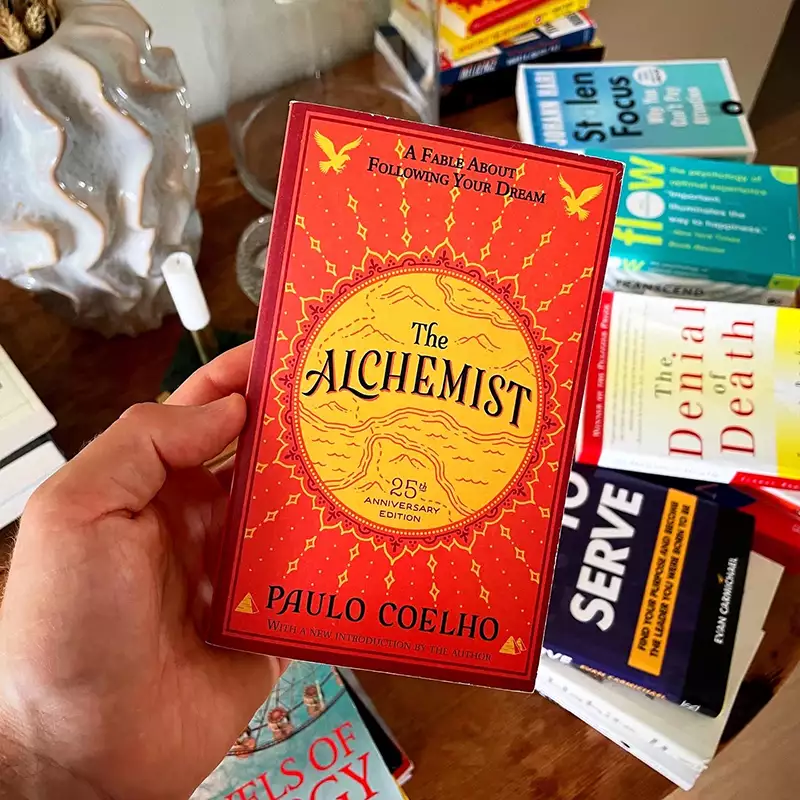 "The Alchemist" by Paulo Coelho is a beautifully written novel that weaves a spiritual journey into a compelling narrative. It tells the story of Santiago, a shepherd boy who embarks on a quest to discover his Personal Legend. Through his adventures, readers learn about the importance of following their dreams and listening to their hearts. This book is a timeless and inspirational read for anyone seeking purpose and meaning in their life.
Spirituality is a key ingredient of a meaningful life.
Spirituality is often overlooked in the modern world. But spirituality is a key component to living a good life, just as health, wealth and happiness. Opening up to the spiritual aspects of being can enrich your life a altering way. The books mentioned above offer a variety of perspectives and insights to help you begin or continue your spiritual journey. As you face the challenges in life, these books can serve as guides to finding inner peace, self-discovery, and a deeper connection with the world around you. Remember, spirituality is a personal path, and the most important step is the one you take to nourish your own soul. Happy reading!
---
Find more great books to read on my the Great Books List
Video Reviews every week on YouTube , Daily book recommendations on X (Twitter) and support the BookLab mission on Patreon