Kia ora! Welcome to Aotearoa, the land of the long white cloud. Our unique blend of Maori culture, captivating landscapes, and rich history provides a backdrop to our collective identity. For those wanting to delve deeper into the human psyche, philosophy, and our shared potential, here's a selection of non-fiction titles, from a Kiwi perspective, that speak to our journey, values, and place in the world.
---
1 – "The Penguin History of New Zealand" by Michael King
Michael King's comprehensive work is essential for anyone wanting to understand the rich tapestry of New Zealand's past. From prehistoric times, through colonial days, to our modern era, King illuminates the events, cultures, and people that have shaped the nation. It's a starting point to appreciate the diverse strands of New Zealand history.
---
2 – "Sapiens: A Brief History of Humankind" by Yuval Noah Harari
This global bestseller isn't New Zealand-centric, but its exploration of human history from the emergence of Homo sapiens is universally enlightening. Understanding our shared ancestry and collective behaviours can help Kiwis appreciate their unique position in the Pacific and New Zeelands role in the larger human story.
---
3 – "Pounamu Pounamu" by Witi Ihimaera
Although it's a collection of short stories and not strictly non-fiction, this book by Maori author Witi Ihimaera offers valuable insights into Maori life. Each story touches on issues that are central to New Zealand's identity and provides a glimpse into the everyday lives, struggles, and joys of Maori communities.
---
4 – "The Art of Travel" by Alain de Botton
New Zealanders are known for love of travel. Alain de Botton's philosophical and reflective approach to the subject of travel provides thought-provoking insights into why New Zealanders feel the urge to explore and what we seek on our journeys. With the nation's geographical isolation and the 'OE' (Overseas Experience) tradition, this book speaks directly to the Kiwi spirit of adventure.
---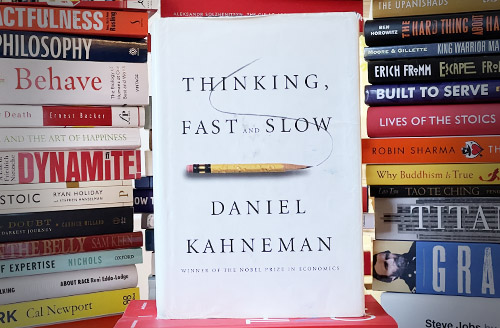 5 – "Thinking, Fast and Slow" by Daniel Kahneman
Kahneman's exploration into the realms of behavioural economics and the psychology of decision-making offers valuable insights into how we think. As New Zealanders, in a country that values innovation and adaptability, understanding the nuances of human cognition can empower us to navigate both our local challenges and global opportunities with greater clarity.
---
No matter where you're from or where you're headed, books can offer a deeper understanding of our world and ourselves. For my fellow Kiwis, these selections provide a mix of local resonance and global relevance, enriching our sense of belonging to this special corner of the world. Happy reading, New Zealand!
---
Find more great books to read on my the Great Books List
Video Reviews every week on YouTube and support the BookLab mission on Patreon